Oil Portrait Commission from the
Institute of Social Research at the University of Michigan
"Ida Irene Hess"
Oil Portrait Demonstration 16 x 20" February 19, 2010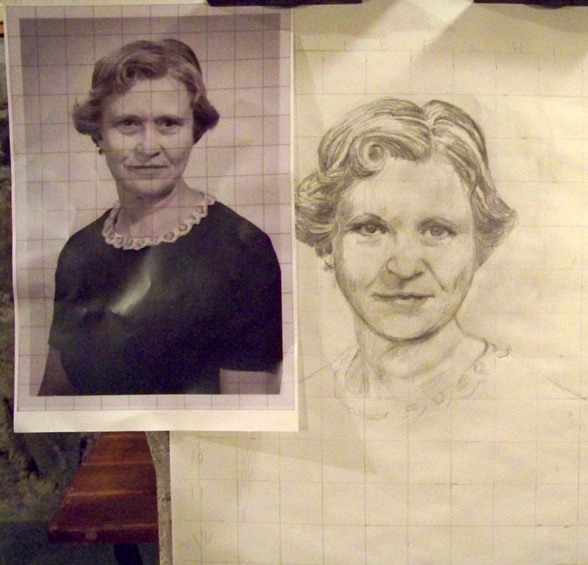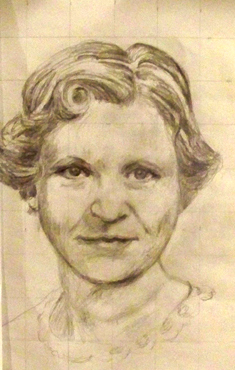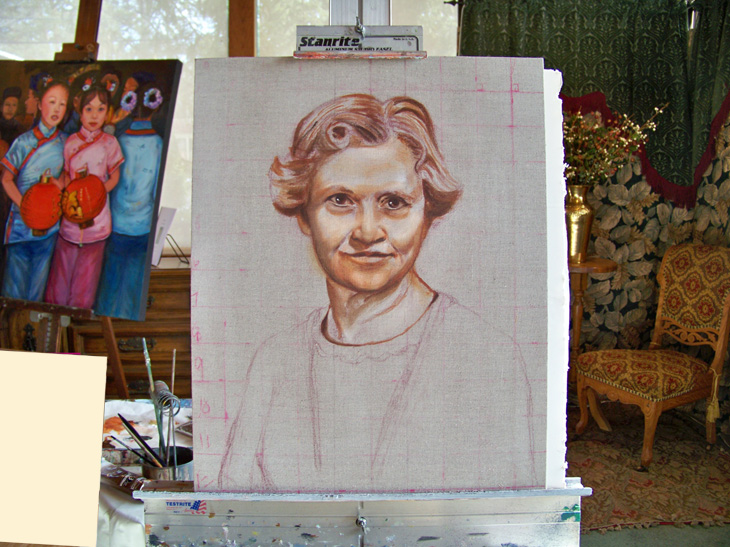 Oil Portrait bistre, an underpainting by Lisabelle March 2010.
An oil portrait demonstration, begins with a drawing. The image above is a bistre in oil, of the Late Beloved University of Michigan's Irene Hess. A bistre, is an underpainting of a commissioned oil portrait, that sets the range, by laying in the lightest and darkest of tones at the very outset of painting. For the underpainting I have chosen burnt umber as my darkest tone, burnt sienna for the middle tones and white to make a tonal value study of the subject. In painting, tone refers to the relative lightness or darkness of a color. One color can have an almost infinite number of different tones. Below, the most recent stages in the development of Irene Hess' portrait.
Painting of Irene Hess Continues... March 17, 2010

Every color can produce a variety of tones; how light or dark these are depends on the color. It's important to realize that tones are relative, that how dark or light they seem depends on what's going on around them. A tone that's obviously light in one context may seem darker in another, especially when it's surrounded by even lighter tones.

If a painting is going to be successful, you must get the tones right, otherwise it's going lack harmony. A good practice is studying a black and white photograph for an understanding of tonal values from light to dark and all the various grays in between. Color mixing and application, adjusting shapes and tones. Being careful with detail areas, if necessary, repainting lines to maintain correct likeness.

The painting is nearing it's completion, I am continuing to paint the details such as hair, eyes, clothing and background. More images are on the way.

Close-up Irene Hess Oil Portrait

Closer-up Portrait

Irene Hess Oil Portrait by Lisabelle

IRENE HESS 1910 - 2009

Oil on Linen

16x20"

Art By Lisabelle

A recent portrait commission of Irene Hess in oil. 16x20" Oil on fine portrait linen. A bust style portrait from the shoulders up. I work from photos and from sittings. When possible both. In this case it is a posthumous portrait and it is worked only from photographs. Thanks to Irene's colleagues at the Institute for Social Research, I had several photos given to me, making it possible to familiarize myself with her character and personality. I was also given a biography from her Memorial. Irene Hess was a prominent Statistician, and a pioneer for women in the field of Social Research. Another interesting thing regarding Irene Hess, that inspired me, was that she walked everywhere, never having owned a car, by her own choice. A portrait is a personal life study and much more. This portrait in oil was commissioned by The Institute of Social Research, University of Michigan April 2010. To have a custom oil portrait painted contact mail@lisabelle-artist.com