Art By Lisabelle
Fine Art Paintings and Portraits

SUNSET to the EAST
Oil on canvas
24 x 36"
New Oil Landscape...
Sunlit Mountain
Johnny Nitro
Oil on canvas 48 x 60"



Pastel
12 x 19"


(click on image to commission
your own original pastel pet portrait)




Pastel
12 x 19"
(click on image to commission
your own original pastel pet portrait)
New Series...BIG SKIES of NEW MEXICO 2018
Commissions... here is one I recently painted. I was glad to invite someone special into
my studio and gallery, who had an interest in my artwork. The client asked if I would paint on commission, their unique idea. After viewing my oil painting "Wild Horses of Nevada" it was requested of me that their painting be based on that landscape, the only thing was....
The client had a treasured knick-knack, it's an antique replica of a covered wagon, that is uniquely
drawn by a pair of Clydesdale horses. I was intrigued by this special request, and my creativity was peaked.
The picture on the right is the final result. The title of this oil painting is: "Only The Strong Made It THROUGH!" The client also told me of a plaque that was adhered to the underside
of the covered wagon that read,
COVERED WAGON
There's a covered wagon in Arizona
Where everybody had loaded their treasures,
They had loaded everything they had and they
started out across the United States...
No trails, no roads or anything and the pioneers headed across.
The plaque on the bottom of the covered wagon
reads like this..
" - The cowards didn't even start...
- The weak died along the way...
- Only The strong made it THROUGH!"
This phrase is painted in the lower right of the foreground above the signature.

Rockwell Commission
Oil on canvas
24" x 36"
more Landscapes...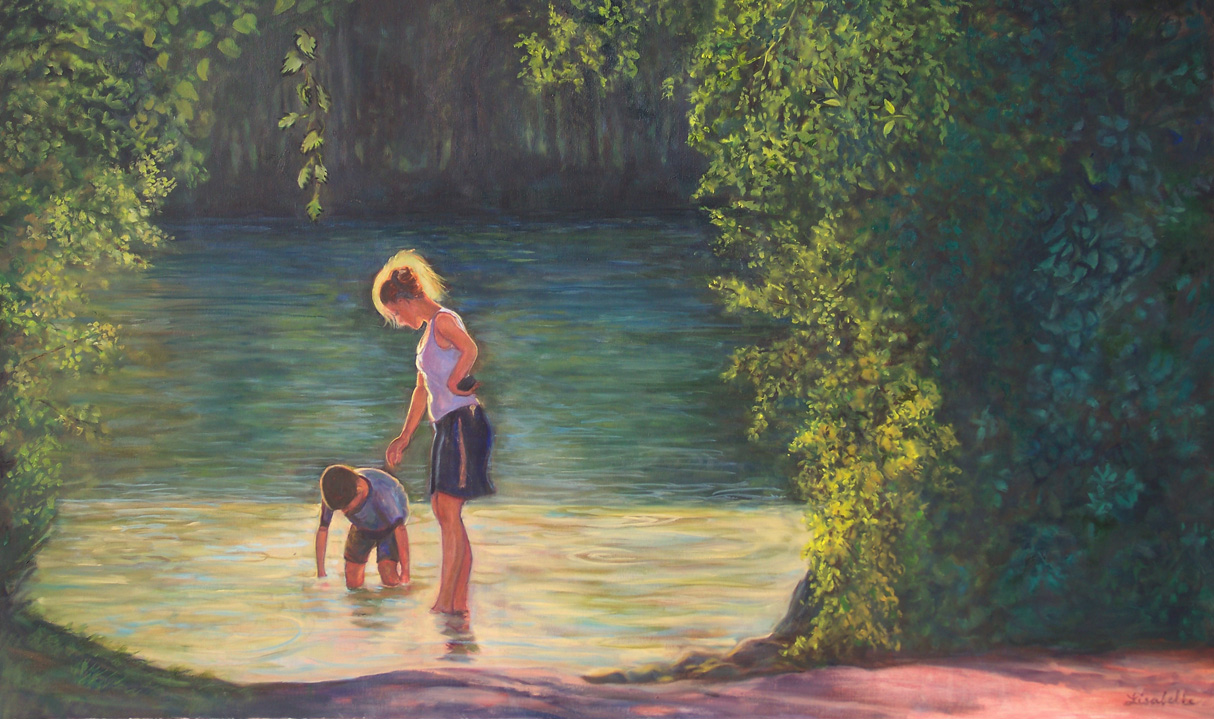 Purely

Oil 36 x 52.75"
more Landscapes...
Peaceful Creek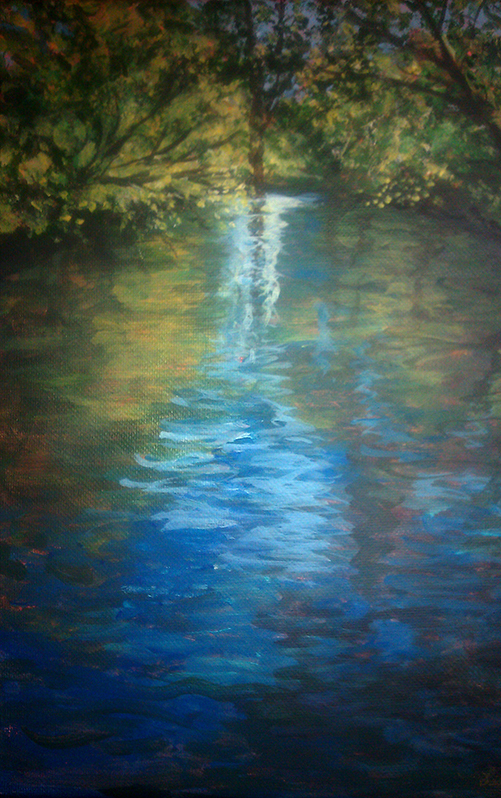 Acrylic on canvas
11x14"


Welcome to Fine Art By Lisabelle - Portraits of People and Pets since 1987


Hand Painted Portraits of people, pets and places. Lisabelle is a recognized and awarded portrait artist since 1987.
With over thirty years of experience in the painting of fine art portraits.
While visiting Art By Lisabelle you may also view a broad spectrum of works including Impressionistic landscape paintings, realistic still-life, abstract and realism in floral painting.
Fine Art by Lisabelle and many commissioned portraits are in private and corporate collections.
Portraits and fine art paintings may be commissioned in oil, pastel, acrylic and watercolor paints.
People and Pet Portraits from Art by Lisabelle are original, expressive and true to life representations.
Have a favorite photo brought to life as an oil portrait painting on canvas.
When you commission Art By Lisabelle for your portraits of people, pets or even your favorite places, every painting and portrait by Lisabelle is guaranteed to be created with the highest professionalism and the finest archival materials.
Portraits are family heirlooms, personalized gifts and make excellent memorial tributes.
For a price-list, consultation, for portraits or general art related inquiries you may contact Art By Lisabelle.
email: lisabelle.artist@gmail.com
Art By Lisabelle or Lisa Bell All images © 2018